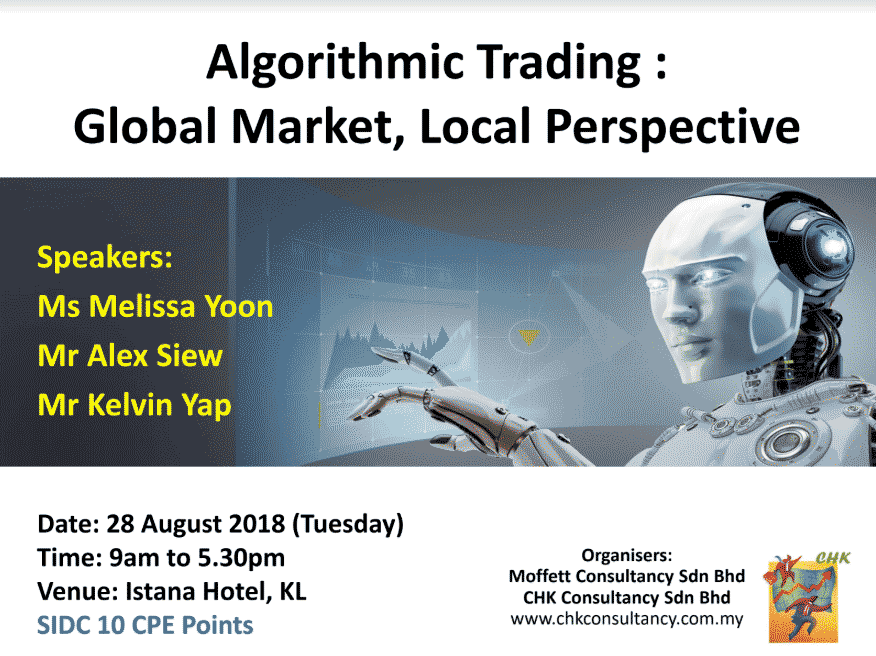 ORGANISER
ATTENDANCE FEE & REGISTRATION
Download the Registration Form to register for the course.
Kindly email or fax or WhatsApp or WeChat the registration form to Ms Joanne: H/P or WhatsApp: 017-4187 988 Email: cpeseminar@chkconsultancy.com.my / joanne@chkconsultancy.com.my WeChat: chkcpeseminar Fax: 03-76104234
TARGET AUDIENCE
CMSRL/ ERP License Holders, Investment Advisers, Dealer Representatives, Fund Managers, Registered & Licensed Financial Planners, Investment Bank management and staff, Public and Industry Related Professionals, Stock Broking firms' management, Business Reporters, Unit Trust Agent, Insurance Agents and Retail Investors.
VENUES & DATE
| Venue | Date |
| --- | --- |
| Hotel Istana Kuala Lumpur | 28th August 2018 |
LEARNING OUTCOME
Upon completion of the conference, participants would be able to:
To outline the fundamental factors to design a good algorithmic system.
To develop skills of using current technology for building investment process system.
To construct own trading strategies and style.
To develop and apply Blockchain technology in trading crypto currencies.
SIDC - CONTINUING PROFESSIONAL EDUCATION (CPE)
This seminar is SIDC Accredited and carries 10 CPE points.
PROGRAMME OUTLINES
8.30am to 9.00am
Registration
9.00am to 10.30am
The Algorithmic Environment

Understanding the fundamental factors to design a good algorithmic system
Strategy logic must be sound and unique
Coding environment must be integrated with data vendor, and brokerage firm / clearing house
API connectivity standards offered by brokers and how to comply
Importance of understanding global macro in strategy design

10.30am to 10.45am
Coffee Break
10.45am to 12.00pm
The Technical System Strategy Development

Basic concept of automation platform
The framework for development of filter criteria
The platform that supports technical indicator development
Existing technical filters which are popular
Trading time frame
Application of indicators to develop a fully functional trading system

12.00pm to 1.00pm
Backtesting and System Optimisation

Basic concept of backtesting
Measurement benchmarks
Optimisation features
How to avoid curve fitting
Timeframe choice and personal preference

1.00pm to 2.00pm
Lunch
2.00pm to 3.30pm
Application of Crypto Platform Development Using
Blockchain Technology

Learn to design the blockchain micro structure Diagram Chart
Recommendation Programming Language for blockchain technological development
Types of crypto currencies
Nature of bitcoin, Ethereum and other alternate coins

3.30pm to 3.45pm
Coffee Break
3.45pm to 4.30pm
Trading Strategy for Cryptocurrency

Trading Time Frame: Short Term
Price Action Analysis for BITCOIN: Identify the Big Boys intention
Entry Rules in Daily Chart-Exit Rules in Hourly Chart-Position Sizing

4.30pm to 5.30pm
Web-Based Live Platform Demo
and Issues

Platform options
Demonstration of chart formatting with live feed
Order execution exercise
SPEAKERS' PROFILE
| | |
| --- | --- |
| | Mr. Alex Siew Wee Chai, is licensed Capital Market Service Representative, holds a Master in Information Technology in Business from Lincoln University, United Kingdom. Prior to that, he obtained his Bachelor of Commerce (double major in Accounting and Marketing) from Deakin University, Australia. He is currently a Fund Manager in VCB Capital. |
| | Mr. Kelvin Yap Giin Pin, graduated from RMIT University in Melbourne, Australia, major in Economics & Finance. He has always been passionate about trading in stock market and has gained 10 years of trading experience. However, he was not born with the special gift to be in this industry. In the beginning 5 years of his trading journey, he has tried using both fundamental analysis and technical analysis like most of the retail investors and traders. |
| | Miss Melissa Yoon Pei Lin, is a partner at Q82 Capital. Q82 Capital manages a cryptocurrency hedge fund that use quantum computing and reinforcement learning techniques. She is also a community director for the Crypto Club at the Asian Wealth Community. She started her finance career at the Monetary Authority of Singapore (MAS) and went on a boutique hedge fund firm that trades commodity and index futures. |